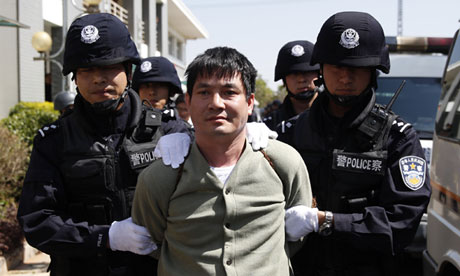 Naw Kham's wry smile belied his macabre circumstances. "I haven't been able to sleep for two days. I have been thinking too much. I miss my mum. I don't want my children to be like me," the 44-year-old Burmese druglord, chained to a chair, told a Chinese TV interviewer.
The broadcast elicited a polarised response in China. Some saw it as a reassuring show of judicial resolve; others compared the TV special to a Mao-era "execution parade" – an unjustifiable transformation of somebody's last moments into a crude propagandistic lesson.
Experts said the broadcast, which juxtaposed Naw Kham's final march with bold displays of Chinese judicial force – armed Chinese patrol boats on the Mekong, rows of Swat police– was intended to convey an unambiguous message.
When Thai authorities reached the murder scene, they found 12 dead sailors – one on the boat, and 11 by a nearby port – some of whom had apparently been blindfolded, gagged with duct tape and shot in the head at close range. One had her neck broken. Another was missing. Nearly one million methamphetamine pills were found on board.
Chinese web users reacted to the news with horror and Chinese authorities sent gunboats down the Mekong, causing some to question China's long-standing foreign policy of non-interference in other countries' domestic affairs. Shipping on the river briefly came to a halt.
State media identified Naw Kham's three henchmen as Hsang Kham from Thailand, Zha Xika from Laos and Yi Lai of "unknown origin". The four prisoners were sentenced to death last autumn for intentional homicide, drug trafficking, kidnapping and hijacking.
On China's most popular microblogging site, Sina Weibo, response to the execution were firmly divided. Some users praised the government's hard line on crimes against Chinese citizens abroad; others decried the live broadcast as unnecessarily cruel and voyeuristic.
Lawyer Tao Jiamei called it an infringement of China's own criminal procedure law, which dictates that executions "should be announced, but should not be publicly exposed".
Human rights groups say China executes up to 8,000 people per year. The exact number is considered a state secret.