South Korean kids have taken to ordering huge amounts of fries in McDonald's, dumping them on to trays and photographing themselves stuffing their faces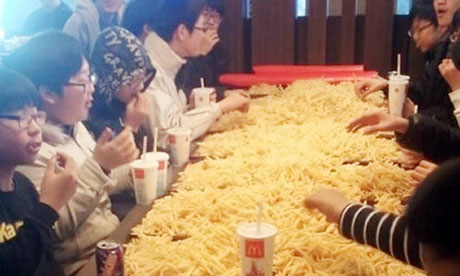 They call it a "potato party". Want to throw one? It isn't hard: head out to your local McDonald's and order a near-fatal amount of fries. Ditch the paper packaging and pour them out on to as many plastic trays as they will fill. Take a photo, stick it up online, then stuff your face.
According to Asian news site RocketNews24, the stunt so enraged one member of staff that he yelled at them: "Stop causing trouble, you brats! Get out of here!" It brought their fun to an early – and considerably healthier – end. But a photograph of the kids' salty banquet – which filled 16 plastic trays – has since done the rounds online. Where, to be fair,
it's one of many
.
It all began in Japan. Last October, Japanese McDonald's stores held a sale on large French fries and a handful of opportunistic kids leaped at the chance to book their places in the eating fad history books (which are, admittedly, as yet unwritten). It started with one group's photo of 23 large cartons of fries, swiftly retweeted several thousand times.
Things escalated. Kids in Okinawa tweeted a photo of themselves with 40 packs, and soon after a group in Okayama upped the ante with a three-hour-long 60-pack feast, which they ate under a specially printed "60" balloon.